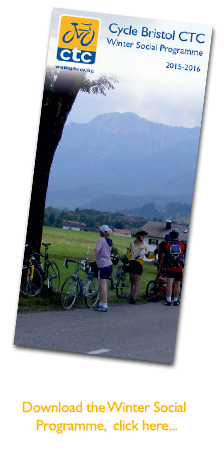 Welcome to Cycle Bristol CTC. If this is your first visit to us it maybe as well to say who we are! Briefly we are the local group of the Cyclists Touring Club, Britain's oldest and largest National cycling organisation. Introductions over, what do we have on offer?
Club Rides
We organise cycle rides every weekend all year round. Anything from an easy 15 mile ride to 100 mile rides for the more energetic, plus plenty in between. We stop for coffee, lunch, usually at a country pub, and where possible, afternoon tea. So if you fancy a ride on quiet country lanes in Bristol's surrounding countryside come along to the start and try us out.
We have in our area some of the most varied and loveliest country in the UK so come and enjoy it in friendly company. And remember, we have a policy of tailoring our rides, especially the easier ones, to the pace of the slowest rider - so you won't get left behind! Come for the morning or the whole day, whatever suits. See our Rides Calendar above for further details... And all start points around the city are listed below.

Evening Pub Rides
On Wednesday evenings in the summer we enjoy short leisurely rides to a local pub.

Cycle Tours
Friendly and convivial Weekends away in interesting localities are organised for the Easter, Spring and August Bank Holidays and other weekends, usually in YHA accommodation or Bunkhouses. Also longer tours both in the UK and abroad are organised by our members.

Audax Events
For the more experienced riders Bristol CTC members organise several 100k audax events during the year and there are others, from 100k to 200k run by the other DA Sections. See the DA Events http://www.aukweb.net for more details.


Get Gorge-ous
Thank you for your interest in Get Gorge-ous 2016. There has been a strong response and the Challenge is now fully subscribed, but if you are still interested in starting, or getting back into cycling, why not join one of our easy CTC club rides.


Winter Clubroom
From late September to April we have Clubroom night, on Wednesdays at Beechwood Hall, Fishponds in Bristol where an interesting programme of cycling and other travel presentations are shown together with quizzes etc and an auction of cycling bits and pieces. Free tea and bikkies, too! See the Winter programme for more details.
So this, briefly, is what we do. Come and join the happy and friendly world of CTC Club Cycling, meet new people, keep fit, enjoy yourself and view the wonderful countryside on our doorstep.

You can keep up to date with all the latest Cycle Bristol CTC News and events by following us on Twitter, Facebook, or signing up to the weekly club newsletter below...